| | |
| --- | --- |
| Warships and Warship Modelling - David Wooley / William Clarke | |
Samstag, 24. März 2007 um 18:48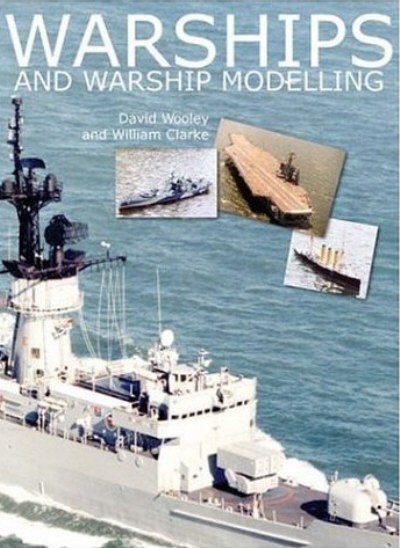 Titel: Warships and Warship Modelling
Autor: David Wooley / William Clarke
Gebundene Ausgabe: 192 Seiten
Verlag: Special Interest Model Books (14. Dez. 2006)
Sprache: Englisch
ISBN: 1854862405
Produktmaße: 30,6 x 23 x 1,8 cm
Preis: £19.95 / EUR 32,90 z.B. Amazon


Text im Schutzumschlag:
Warships and Warship Modelling is a book which wil appeal equally to naval enthusiasts and ship modellers. It offers an overview of the dseign, development and classivication of modern warship types and its studies the constructors original models, explaning why and how to research and select information on specific ships and how to find and understand plans.
The book then turns to scale modelling with detailed chapters on choosing a subject, a scale, methods of construction (scratch or kit?), materials and thechniques and the details of fittings and painting. The book leaves the reader with a deeper insight into the direct relationship between the full sized vessel and the realistic scale model or working model.
The book is illustrated by over 300 of the authors' superb photographs, many of which have never been published before.
Inhalt

Introduction
The Warship
Design and Development * Classification of warship types * Modern warships.
Constructors Models
The Constructors Model * How they were made and why * Types of warship models built by and for the shipbuilding industry * The amateur model warship builder.
Research, Plans and helpful Publucations
Research techniques * How to select informations on specific ships * Searching for aud understanding plans * Key publications that will be most helpful to the modeller * Photo Archives.
Getting the best from a workshop or work area
Choosing a subject * Selection of scales * searching for the right GRP hull Types and methods of construction * Preparation of GPR hulls * Methods of scratch-building a hull.
Internal fitting out
Planning and fitting out * Installing the drive train * Rudders and rudders linkages, R/C, motor their selection and installation * Power supply and installation methods * Test sailing and trimming * Preparation for the deck and superstructure.
Techniques for building of weather decks and superstructures.
Techniques for building up superstructures * Bridge areas, Turrets, mast * Selection of Materials * Understanding adhesives and bonding agents.
Fittings, eched work and castings
Warship Fittings, old and new * Ships boats * Constructing single item fittings, multiple fittings and resin castings * Commercial fittings,
seletion and preparation * Etched brass fittings * Fitting etched stanchions, making railings from scratch, deck planking * Making aircraft from scratch * Radar arrays * Ship fittings general.
Paiting and camouflage
Preparation, selection of paints, type of finishes, camouflage, application.
Preparation and operation of working model warships
Methods of Ballasting, R/C equipment * General maintenance * Presentation for show and exibitions * Steering techniques.
Appendix 1 -GLOSSARY OF TERMS
Appendix 2 -SOURCES OF INFORMATION
Appendix 3 -SPECIALIST MANUFACTURES AND SUPPLIERS
References


Fazit:

Dieses Buch zeigt hervorragenden RC-Modellbau mit wirklich guten Bildern und Zeichnungen. Der Bildteil zeigt von Originalfotos über Modelle bis hin zu den Detailfotos wirklich einmalige Bilder. Die Baustufenfotos werden immer im vergleich mit dem Originalfotos gezeigt und es sind auch gute Tips zu finden wie man diese Perfektion erreicht. Einzigster nachteil wenn man es so nennen mag ist die Englische Sprache.........
Daher das Urteil:
Empfehlenswert